About US
Sanbros Engineering Works is a prominent name in the manufacturing and exports of magnetic sheets and rolls. Right from the inception in year 1995, Sanbros Engineering Works has been rated as one of the professionally managed organizations. The company presents a vast array of magnetic products, together with Electro Magnets & Sheets, Magnets in Rolls & Sheets, Printable Magnetic Paper, Magnets for Puzzles and Games, Magnetic Stickers, Magnetic Paint, Plastic Bonded Permanent Magnets, Magnetic Alphabets & Numerals, Magnetic Dots and Magnetic Calendar. Apart from endowing a varied collection of products, Sanbros Engineering Works also presents job work for Special Purpose Machines and Industrial Equipment.
Being a dynamic division of our parent company, Gund Industries (New Delhi), we comprise a spacious presence across an area of 2200 sq metres for churning out our range of products. Sanbros Engineering Works aims to present superior products to its esteemed clients and employs high-end machines of German Technology in the manufacturing process to get closer to the desired target. The company is firm in approach to present the best products to its clients at extremely competent prices.
Sanbros Engineering Works has been set up on the standard of exceptional services to the customers, and strives towards excelling the satisfaction level of its clients. The company is thoroughly supported by a team of committed, and professionally as well as technically qualified personnel, and aspires persistently towards delivering overall satisfaction to its clients.
Our Range of Products
Sanbros Engineering Works takes delight in its high end manufacturing capabilities and offers a fine list of technically efficient products for the satisfaction of the clients. The range of products we offer include Magnets in Rolls & Sheets, Magnets for Puzzles and Games, Printable Magnetic Paper, Magnetic Stickers, Electro Magnets & Sheets, Magnetic Paint, Plastic Bonded Permanent Magnets, Magnetic Alphabets & Numerals, Magnetic Dots and Magnetic Calendar. At the same time of presenting a diverse array of products, we also present job work for Special Purpose Machines and Industrial Equipment.
Application Areas
The vast range of products we present is extensively employed in the following areas, like:
Bin Markers
Menu Boards
Novelties and Gifts
Visiting Cards
Sales Promotion
Advertising
Automobile Signage
Crafts
Calenders
Graphics
Games and Alphabets
Customization
Sanbros Engineering Works relishes its status in the industry on the basis of ability to present a customized collection of products, as it comes up per the specifications by the customers. To come good on the rising expectations and requirements of the customers, we have carved out an industry expertise in presenting our range in customized options as per the buyers' choice. We boast of a team than can fittingly customize our range of products on a choice of parameters, which are:
Sizes
Shapes
Different configurations
We put special emphasis on printing as it being one of the significant aspects in our range. We have created our expertise in presenting our products by way of more than a few prints such as screen prints, offset prints, digital prints and direct prints.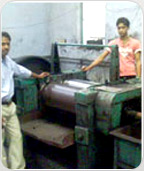 Infrastructure
To come up with a variety of engineering sound products within specific time, Sanbros Engineering Works has maintained state-of-the-art infrastructure, operational with diverse facilities. Superior resources for printing, cutting and manufacturing have been integrated in the diverse facilities to manufacture products competently and impeccably. With the help of our well-organized infrastructure and fine range of products, we are proficient enough to accomplish a target turnover of Rs 1 crore. Our infrastructure basks in the glory of the industry experts, who possess nitty-gritty of virtually each and every methodology of the manufacturing process. We make sure to supervise our resources capably to come with flying colors on the precise order placed by our clients, even in the stipulated time.
Quality Assurance
Quality is what we are recognized for, and it being our specialty, we ensure to keep up high standards of quality at each level of the business process. To maintain that status, we set-off the rigorous checks on our products right from the time of the procurement of raw materials. We comprise a quality control lab to start the proceedings of the checks, which is manned by quality controllers having proficiency in their field. We have made it mandatory for our product range to get checked on a number of parameters of quality such as:
For Smooth Surfaces
For Abrasiveness
Tear Resistant
Our Team
Sanbros Engineering Works embraces a team of experts having proficiency in their respective domains. We have made the linking of our team of workers, professionals and personnel through each department such as manufacturing, administrative or customer care. This step has been initiated to bring out efficiency in the entire business operation. We follow a strict regime of the regular training and development programs for the improvement of our team, as we recognize that only an efficient team can fetch the desired results.
Research and Development
The proper market research we follow forms the basis of our groundbreaking designs. We have based the complete designing for our range of magnetic material on market analysis, and this keeps us updated on the requirements of our customers. A superior team of research analysts rallies around us in bringing forth constant modifications in our existing range. This offers us an opportunity to maintain a lead in the specific market of magnet-related products. Moreover, the team also assists us in delivering the products as per the industry trends, in this manner bringing our customers complete satisfaction.
Clientele
We enjoy the trust of a vast stream of clients, spread even out of the geographical boundary of India. We maintain a thick demand for our wide range of products amongst our domestic as well as international Clientele. The trust and confidence we have achieved so far speaks volume of our way of carrying out business. The frequent orders from our customers spread all across the globe offer us an impetus to excel further, and we are constantly striving to get even a step closer to that goal. A few of the satisfied clients have been listed below:
M/S Videocon International Limited, Aurangabad
M/S LRG Food, Bathinda
M/S Samtel Color Ltd, Ghaziabad
M/S JCT Electronics Ltd, Vadodara
M/S BPL Display Devices Limited, Ghaziabad
M/S Gopalji Food Products